February 14, 2016
Zurich Main Railway Station (Zurich Hauptbahnhof)
Location: C> Zurich, Switzerland
Time Zone: UTC +1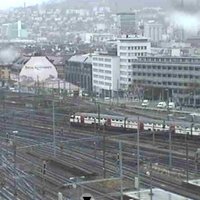 Webcam Viewing Options::
Category: Station; Main Line – Intercity; Main Line – Regional
Cam View: Cam 1: Controllable. Cam is S. of station, looking NW to NE at station & tracks. Click on video image to take control or join queue. – Cam 2: Cam is N. of Station, looking SE at station building & approach to platforms (Map ref). – Cam 3: Cam is N. of station, panning W to S (Map Ref).
Cam Refresh Speed: Cam 1 & 2: Streaming. – Cam 3: 10 minutes manual. Click left arrow to view previous images.