September 15, 2014
Tokyo Railway (Shinjuku-eki), near Shinjuku Station
Location: Shinjuku Ward, Tokyo, Japan
Time Zone: UTC +9
Timetables…/…Wikipedia…/…More Links
Notes: Japan's busiest railway lines. Off left is Shinjuku Station, which handles nearly four million passengers per day.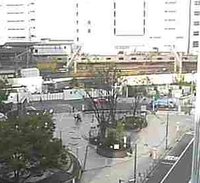 Webcam Viewing Options::
Category: Main Line – Intercity; Main Line – Regional
Cam View: W. at Chuo Main Line (nearside tracks) and Yamanote Line (farside tracks), just N. of Tokyo Shinjuku Station.
Cam Refresh Speed: 1-3 seconds automatic.