November 10, 2014
Rochelle Railroad Diamond Crossing.
Location: SW of Rochelle, Illinois, USA
Time Zone: UTC -6
Notes: Free registration at trains.com required to view.
Cam mounted at official railfan spotter site, the Rochelle Railroad Park.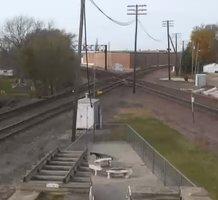 Webcam Viewing Options::
Category: Freight
Cam View: W. at diamond crossing of BNSF Aurora to Savanna line (bottom left to top right), and UP Proviso to Clinton line (bottom right to top left).
Cam Refresh Speed: Streaming.