July 30, 2015
Riga Railway & Light Rail/Tramway
Location: Riga City Centre, Riga, Latvia
Time Zone: UTC +2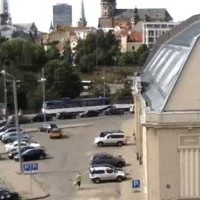 Webcam Viewing Options::
Category: Main Line – Intercity; Main Line – Regional; Freight; Light Rail/Tram
Cam View: 1: NW at trams on Maskavas iela (in front of market building), Centraltirgus iela (behind market); also main railway into Riga Central Station can be seen beyond in middle foreground. – 2: NE across Aspazijas bulvaris towards Freedom Monument (Map Ref.)
Cam Refresh Speed: Streaming.