August 19, 2016
Kufstein Railway (Kufstein Bahn)
Location: Kufstein, Austria
Time Zone: UTC +1
Timetables…/…Wikipedia…/…More Links
Notes: Many services daily to Vienna, Innsbruck, Salzburg and Rosenheim.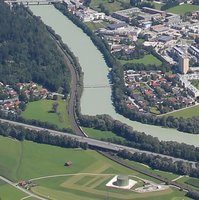 Webcam Viewing Options::
Category: Main Line – Intercity; Main Line – Regional; Freight
Cam View: NE at railway along River Inn. Click on image for full-screen zoom.
Cam Refresh Speed: 10 minutes automatic. Playback available from calendar tabs at top of page.