October 2, 2014
Helmond Railway Webcam (Helmond Spoorwegen)
Location: Helmond, Netherlands
Time Zone: UTC +1
Timetables…/…Wikipedia…/…More Links
Notes: Often referred to as 'Mierlo-Hout'.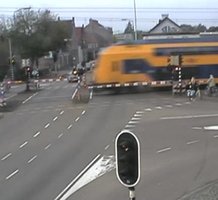 Webcam Viewing Options::
Category: Main Line – Intercity; Main Line – Regional; Freight
Cam View: Site 1: 3 cams. N & NW at Venlo-Eindhoven Line tracks across level crossing. – Site 2: N & NE at tracks (use Presets 1 to 3). (Map).
Cam Refresh Speed: Streaming with sound.