January 4, 2015
Folkston Railroad ('The Folkston Funnel')
Location: Folkston, Georgia
Time Zone: UTC -5
Notes: Railroad carries the majority of Florida rail traffic, hence the name 'The Folkston Funnel', to the extent that a dedicated railfan platform has been built.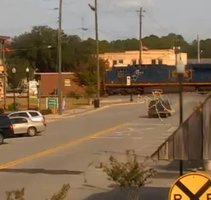 Webcam Viewing Options::
Category: Main Line – Intercity; Main Line – Regional; Freight.
Cam View: NE at MAin St., Folkston crossing.
Cam Refresh Speed: Streaming.