August 13, 2017
Del Mar Railroad
Location: Del Mar, N. of San Diego, California, USA
Time Zone: UTC -8
Notes: S. of Amtrak's Solana Beach Station.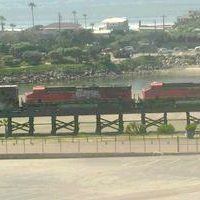 Webcam Viewing Options::
Category: Main Line – Intercity; Main Line – Regional; Freight
Cam View: Controllable. NW to SW at railroad along coast (pan left of racecourse).
If no control arrows present at top left, click arrow at bottom left, select How To control PTZ > PTZ Control Bar.
Cam Refresh Speed: Streaming.