October 1, 2014
Bailey Yard classification, service and repair yard.
Location: North Platte, Nebraska, USA
Time Zone: UTC -6
Notes: World's largest rail classification yard, owned and operated by Union Pacific Railroad.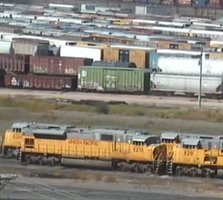 Webcam Viewing Options::
Category: Sheds & Maintenance; Yards & Depots
Cam View: Panning NW to NE at railroad tracks, yards, and maintenance sheds.
Cam Refresh Speed: Streaming.