January 12, 2015
Amsterdam Centraal Station
Location: Central Amsterdam, Netherlands
Time Zone: UTC +1
Timetables…/…Wikipedia…/…More Links
Notes: A principal hub for many national and international railway routes and services. 2nd busiest station in the Netherlands, after Utrecht.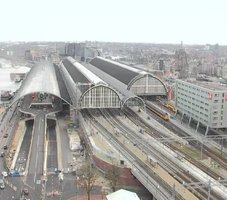 Webcam Viewing Options::
Category: Station; Main Line – Intercity; Main Line – Regional; Freight; Light Rail/Tram
Cam View: SE at Station's N. entrance. Select 'Centraal Station' from drop-down menu.
Cam Refresh Speed: Streaming.